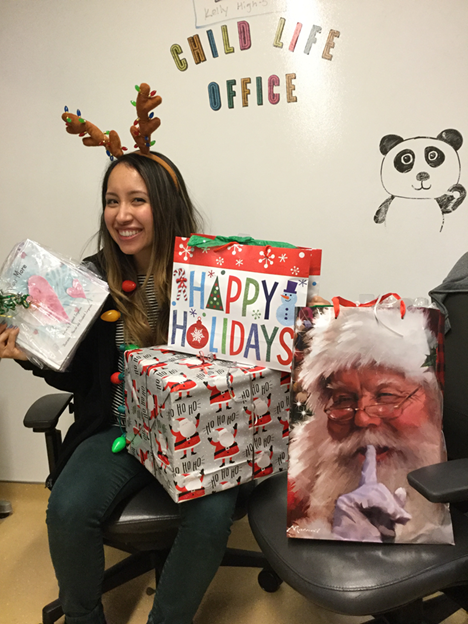 Since 2006, Angels for Hearts has had the pleasure of delivering Christmas presents to thousands of pediatric heart patients at the Lucile Packard Children's Hospital, UCSF Benioff Children's Hospital San Francisco, Sutter Children's Center, Sacramento, and UC Davis Children's Hospital — all thanks to the generous support of our donors. We want all in – patient heart kids to experience the simple joy of waking up on Christmas morning knowing Santa found them, even in the hospital, and made their wishes come true. We need YOU to help us do this again this year. 
1 in 110 children are born with a Congenital Heart Defect (CHD). It is an invisible disease. More than likely, you know a heart family, you just can't see it. Angels for Hearts is a one-of-a-kind organization, filling a void that has never before been filled. To help illustrate the importance and impact that Angels for Hearts has in our community, read what Child Life Specialists and a heart family have to say:
"It's hard to put into words what Angels for Hearts does for families. There is no metric to measure what you mean to so many. For us it's the genuine care for us and other families that you provide. I'm not sure how you can put that in a sentence or two." 
~The Carpenter Family
"We cannot say enough amazing things about Angels for Hearts and what they do to help bring a sense of normalcy into the lives of cardiac children and families. From facilitating fun and interactive community events to connect heart families outside of the hospital, to donating toys, gifts, and meals for families in the hospital. We have been able to help celebrate countless holidays, birthdays, and other meaningful moments with families because of the "Wishes, Wants, and Needs" gift cards they donate to us. Angels for Hearts truly are one of a kind!" 
~Child Life Team at Stanford 
Medicine Children's Health
Angels for Hearts helps families in so many ways it is hard to explain in words. We were honored to have our dear friend Ken Morton, Jr, and Chris Roberts write a song called "Your Time to Shine". Chris also does the vocals for the song. A big thank you to our good friend Susan Siravo for helping put our photos to the words to create a beautiful video. We believe this song and video sums up what we do with heart. Please enjoy our video and song.
It's that time of year and Santa is planning to fill his sleigh. By making a charitable donation, you will help the Child Life Specialists provide presents and fulfill the "Wishes, Wants and Needs" of the pediatric heart patients this holiday season and throughout the year.
Please donate online or mail a check with this form to:
Angels for Hearts
3512 Gabilan Way
Sacramento, CA 95821
We request holiday donations by December 31, 2022. Thank you in advance for your generosity and continued support!
Angels for Hearts