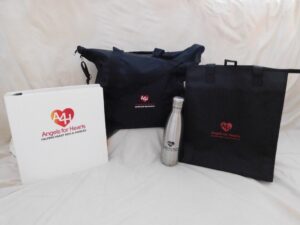 Why do heart families need medical binders?
Many heart families have a shared experience of being in the hospital, sometimes hours away from home, to realize a simple procedure has become very complex and a longer hospital stay is necessary. With medical complexity comes pages and pages of information about your heart child's condition—information about doctors, medications, care plans, insurance, and so much more. Sometimes parents need to write their own notes, too, and it can be difficult to keep everything organized and manageable.
Recently, heart parents and child life specialists have asked Angels for Hearts to help with a simple three-ring binder. While it seems like a small item, heart families in the hospital often don't have the luxury of driving to the store to pick up a "nice to have" item. We are thrilled to meet this need, and then some.
Contents of Angels for Hearts medical binders include:
A 4" 3D-ring binder made with antimicrobial hospital grade plastic, with inside pockets and Angels for Hearts contact information
A heavy duty 3-ring hole punch so everything can go in the binder
A set of binder dividers for parents to create their own sections based on need (like insurance, medications, post-survey notes)
Two pages of heavy-duty business card holders to organize contact information for doctors, child life specialists, music therapy, patient advocates, and more
Three folder inserts
Three no-glare sheet protectors for documents that must be kept safe and without being hidden in a pocket folder
A fabric pencil pouch containing a black Sharpie, highlighters, writing pens, a small notebook, and sticky notes
A two-year calendar
A pad of letter-size paper
The medical binders are funded by grants from various organizations. In 2020 from The Sacramento Bee's Book of Dreams and in 2022 from The Point West Rotary Club Foundation. Along with the binders, we are providing Angels for Hearts care bags with snacks and a stainless-steel water bottle. We are excited to get these in the hands of heart families at Lucile Packard Children's Hospital Stanford (Stanford, Ca), Sutter Children's Center Sacramento (Sacramento, CA), UCSF Benioff Children's Hospital San Francisco (San Francisco, CA) and UC Davis Children's Hospital (Sacramento, CA).